Investment in installments or all at once, which is better? Check out the review on MNC Asset X AJAIB IG Live Tomorrow Evening!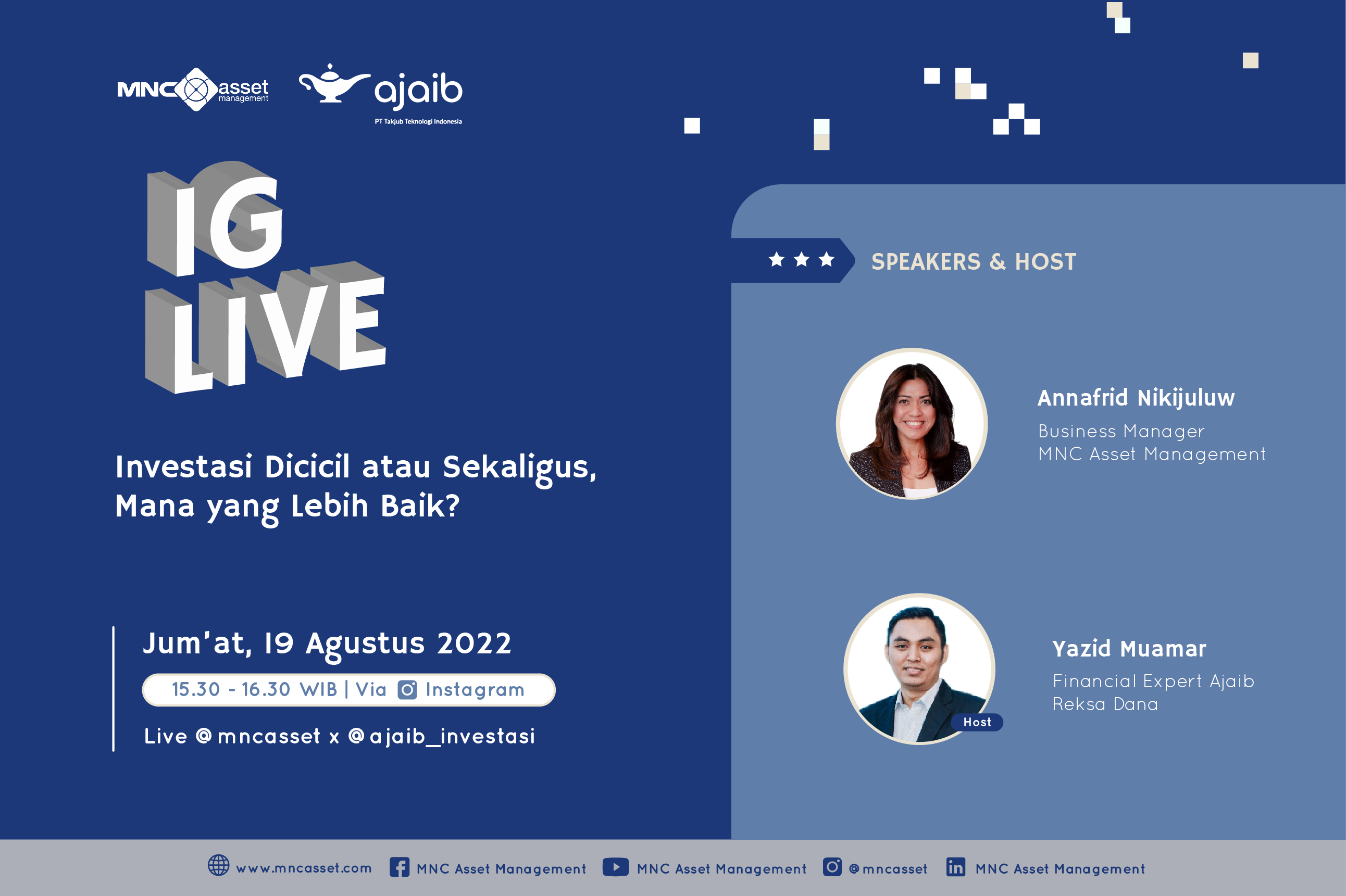 JAKARTA, August 18, 2022 – To realize future financial goals, a person is required to have wise financial management so that the funds set aside can develop optimally. One vehicle to achieve financial goals is to invest early. But choosing an investment style is sometimes still confusing for many people. Does it have to be routine every month? Or at the same time (lumpsum) up front so that you no longer think about the investment allocation budget and can focus your energy and thoughts on other budgets.
The choice of periodic and lump sum investment styles, of course, has its own pluses and minuses. Which is the most correct and appropriate? Which is the most profitable? Which is the easiest? And many other questions regarding these two investing styles.
That is why MNC Asset Management (MNC AM) as a business unit of PT MNC Kapital Indonesia Tbk (BCAP) collaborated with AJAIB which is a distribution partner (APERD) of MNC AM mutual fund products to hold an IG Live with the title "Invest in Installments or All at Once, Which is Better ?" on Friday, August 19, 2022 with Annafrid Nikijuluw - MNC AM Business Manager as a Resource Person and Yazid Muamar Financial Expert Ajaib Mutual Fund as Host.
"For those of us who already understand the importance of investing early on, the next question will arise, what is a wise investment style? In installments or all at once? Which is more profitable? And various other considerations. Now all of that will be discussed thoroughly on IG live with AJAIB later, so that friends who want to start investing are not confused and hesitant anymore," said Annafrid Nikijuluw as Business Manager of MNC AM who was also a speaker at this event.
Annafrid also added that the most important thing to do is to review the portfolio regularly, this is very necessary so that we always get optimal results from the investment instruments that we have done.
Yazid Muamar also commented, "In IG Live, we will also talk about the importance of dollar cost averaging in responding to Indonesia´s current economic condition. Not forgetting to also discuss the importance of understanding an investor´s risk profile before determining the appropriate investment style." said Yazid
So, is it better to pay in installments or all at once? see the discussion on IG Live MNC AM X Magic which will be held on Friday, August 19, 2022 at 15.30 WIB - 16.30 WIB on the @mncasset and @ajaib_investasi accounts. Save the time and date!