18 Years of Establishment, MNC Asset Strengthens MNC DUIT's Brand Awareness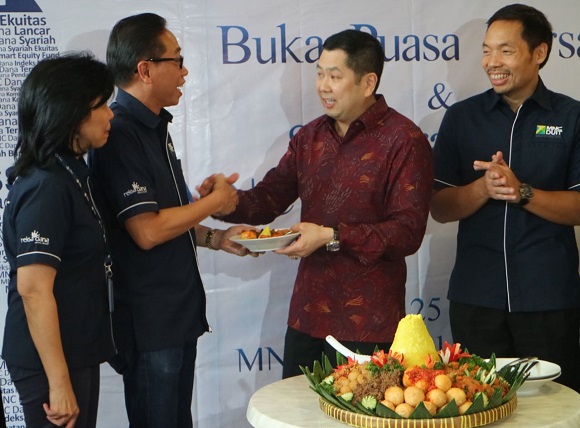 Jakarta, 25 May 2018 – Celebrating its 18th anniversary, MNC Asset Management is strengthening its online mutual fund application MNC DUIT brand awareness. This intention is delivered by the company's President Director Frery Kojongian during the event of "Buka Puasa Bersama dan Syukuran HUT MNC Asset" (Breakfasting and Celebrating MNC Asset's Anniversary). The event which is held at MNC Financial Center – Jakarta is attended by the company's Board of Director, employees, Board of Commissionaire, and also Chairman of MNC Group Hary Tanoesoedibjo.
Frery Kojongian expects that in the 18th year of MNC Asset running, the company could strengthen brand awareness of its online mutual fund application known as MNC DUIT. This is also triggered by the fact of the rapid growth of technology these days. Looking at this, he considers MNC DUIT as the solution for society to invest in this digital era.
"We expect that starting this year, we could strengthen our brand awareness for both company and our product of online mutual fund called MNC DUIT. In this digital era, society demands for facility which is user-friendly, uncomplicated, as well as offer security. In response to this, we have our own online mutual fund application MNC DUIT which was purposely created to fulfill those demands. Through MNC DUIT, we could register, invest, and also monitor our investment portfolio. We are very proud that we've been servicing society for 18 years related to mutual fund investment by offering them products with low risk but high return. We have both conventional and sharia product which could be accessed through MNC DUIT." Frery explains.
Below are the 3 easy steps to access MNC DUIT:
Got to www.mncduit.co.id (prepare softcopy of your ID and also your own bank account number).
Download MNC DUIT application at Play Store (Android OS) and wait for data verification (24 hours).
Use username and password sent to you to log in MNC DUIT.