MNC Dana Likuid Wins Best Mutual Fund 2017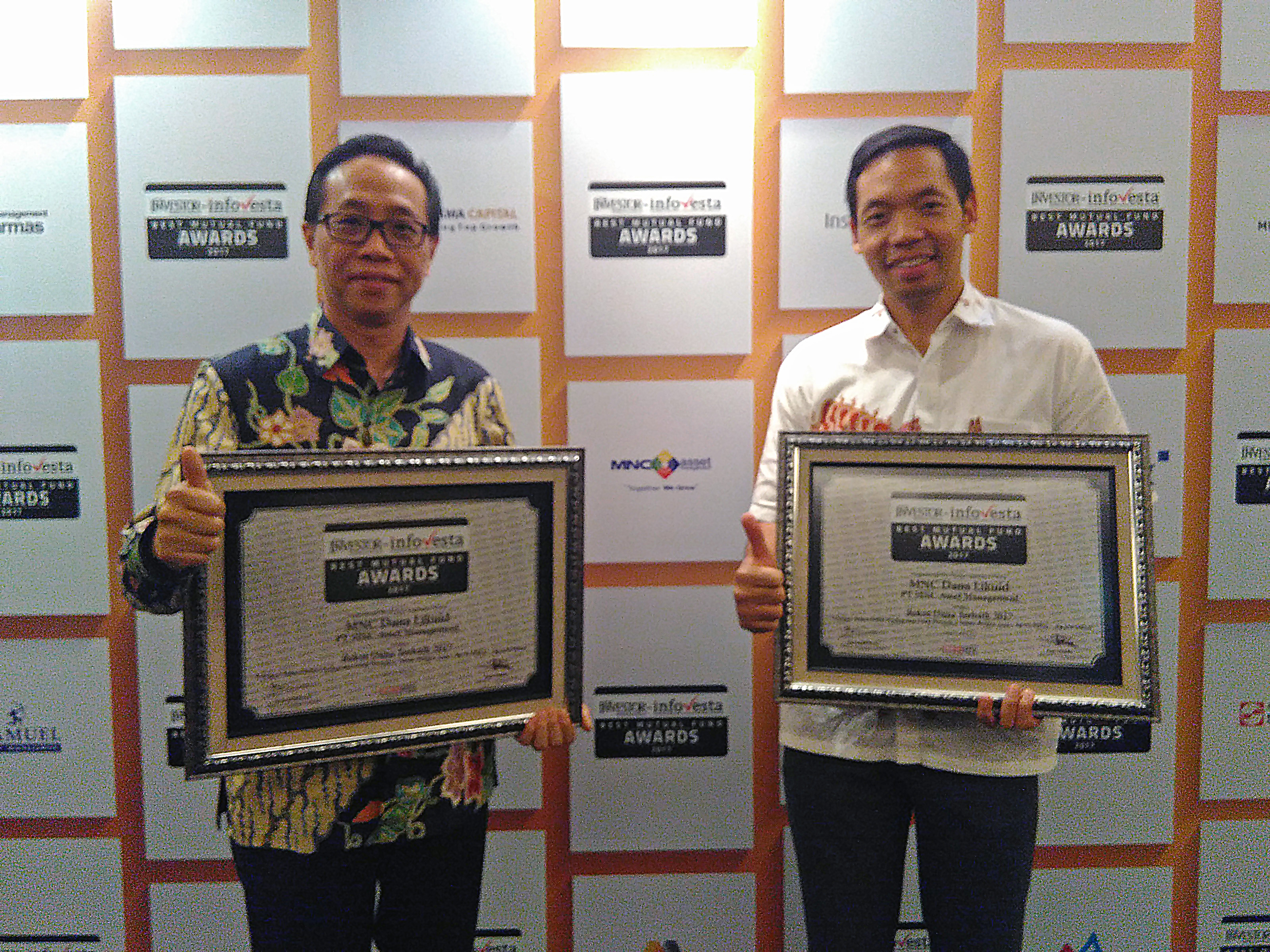 Jakarta, March 16, 2017 – MNC Asset management has won Best Mutual Fund again in 2017 according to Majalah Investor dan Infovesta, in a notable event that was held at Financial Club Graha CIMB Niaga Jakarta. This time, MNC Dana Likuid, managed by MNCAM, won two categories:
Best Fixed Fund 2017 – One Year Period with assets over Rp 10 Billion – Rp 250 Billion
Best Fixed Fund 2017 – Three Year Period with assets over Rp 10 Billion – Rp 250 Billion
"We're proud that MNC Dana Likuid has won Best Mutual Fund 2017 in two categories. This is a real commitment from as an investment manager company to give the best for our customers. We would also like to thank our customers for trusting us to manage their investments," said Frery Kojongian, MNCAM President Director.
MNC Dana Likuid has successfully won an award despite the uncertainty regarding the global economy a few years back. In managing MNC Dana Likuid, MNCAM anticipated this by picking an investment portfolio that combined State Securities (SBN) and corporate obligations in a relatively short or normal amount of time. The result is a performance by MNC Dana Likuid that was able to give a stable and optimal return.
MNCAM Investment Director Suwito Haryatno stated, "This year we saw a relatively small potential of the reduction of the 7 Days Repo Rate, with the Fed's plan of raising the interest more than once, based on the macroeconomic indicator, they'll get better. Aside from that, Indonesia's inflation prediction will be faster this year as a result of government-controlled prices, so it will shrink the chance of decreasing interest rates and there's a chance of increase by the end of the year."
Noticing these conditions, MNCAM's strategy in managing MNC Dana Likuid will shorten the obligation period in their investment portfolios and will choose corporate obligations that have solid fundamentals, as well as finding a leeway in spite of the imbalance of State Security prices to go ahead with active trading, to increase the potential of active return. Through that strategy, MNCAM hopes to provide a competitive return to all individual investors or institutions.
With the success of MNC Dana Likuid winning Best Mutual Fund 2017, MNCAM will continue to increase its performance and develop its products, as well as further the mutual funds industry in Indonesia with the public's need to invest.