Here´s the Digital Financial Planning Strategy, Watch IG Live MNC AM x Finansialku Tomorrow at 16.00 PM!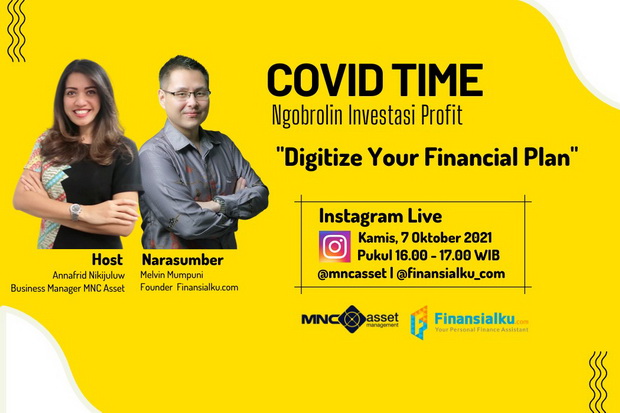 JAKARTA, 6 October 2021- Today, technological developments are growing rapidly. In the financial industry, almost all investment products are currently available in the form of an online platform. The various kinds of digital investment products that are easily accessible give us more flexibility in choosing services that suit our financial needs and goals following the financial planning that we have made.

Talking about financial planning, in fact not many people have the ability to manage finances properly. Many of us have worked for a long time, but always run into a financial deficit simply because we ignore the importance of financial planning. Access to literacy about the importance of early financial planning so far is not too much and is still very conventional. But not anymore because in today´s digital era, financial planning can be easily accessed digitally.

MNC Asset Management (MNC AM) as a subsidiary of PT MNC Kapital Indonesia Tbk (BCAP) under the auspices of the MNC Group will collaborate with financialku.com, one of the leading digital financial planning platforms, to discuss strategies for digitizing financial planning in its role in answering the community´s need for the importance of managing finances from an early age.

MNC AM´s Business Manager, Annafrid Nikijuluw, who will be the moderator of this activity said, "Digital financial planning strategies are very important so that tracking personal cash flow and checking investment portfolios becomes easier and more enjoyable." Annafrid added that it is very important to periodically evaluate personal financial statements to determine the right investment strategy based on behavioral facts and personal transaction data.
In line with Annafrid, Melvin Mumpuni as the founder of financialku.com who will also be a speaker at IG Live said, "Currently access to digital financial planning must continue to be intensified so that the process of selecting investment products and managing personal financial transactions can be reviewed effectively and efficiently. ."
Want to know how digital financial planning strategy tips are? Check out the discussion tomorrow Thursday, October 7, 2021 at 16.00-17.00 WIB on Instagram accounts @mncasset and @finansialku_com. Don´t miss it!