Year End Sale ! Get Cashback from MNC Asset Management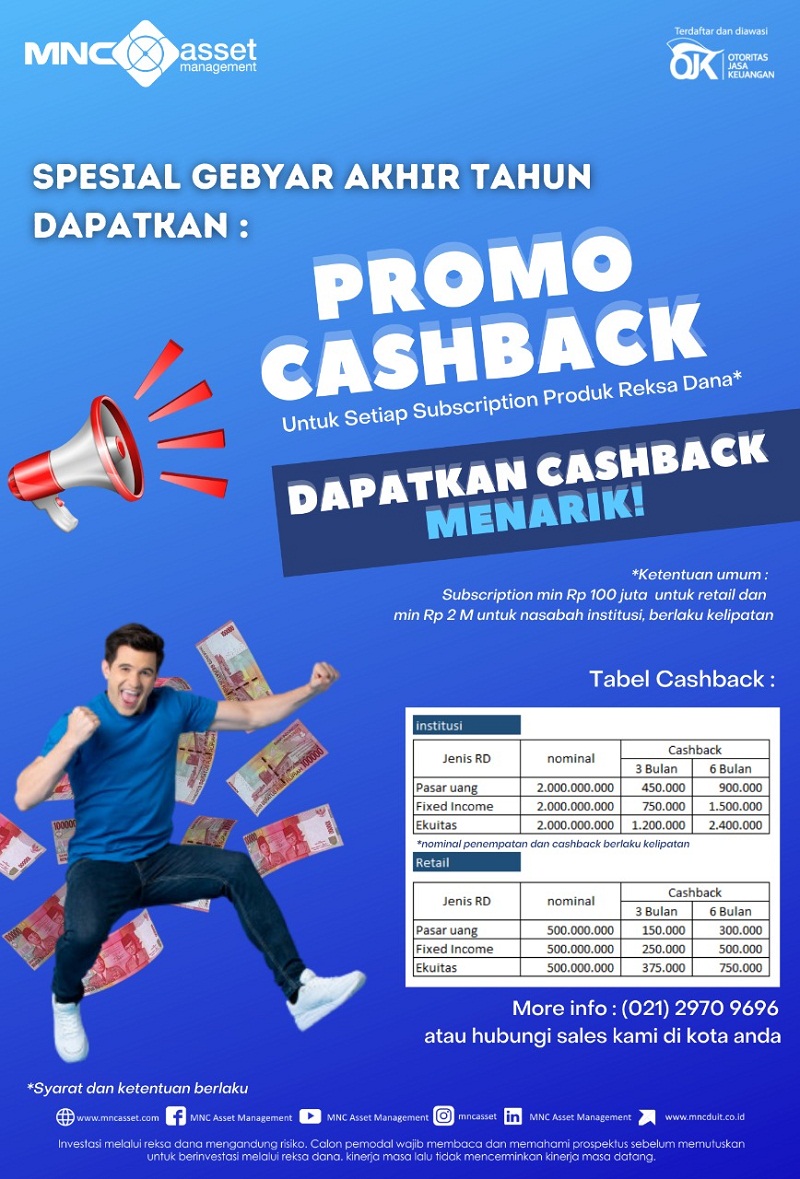 Jakarta,23th November 2020 - Providing more benefits for customers and increasing customer loyalty, is one of the main commitments and focuses of MNC Asset Management (MAM). Recently, this financial services company is held a cashback program until December 31, 2020. In addition to boosting customer loyalty, this program is also MNC Asset´s breakthrough to increase managed funds.
President Director of MNC Asset, Frery Kojongian, said that with the cashback program at the end of this year, customers can experience the benefits of becoming MAM customers even more. "So, being more loyal and MAM itself can certainly increase the managed funds," he said in Jakarta, Monday (23/11/2020).
This cashback program, he added, does not only apply to retail customers, but institutional customers can also take part in this cashback program. For customers who want to get cashback, it is enough just to subion MAM mutual fund products with a minimum nominal value of IDR 100 million for retail customers and a minimum of IDR 2 billion for institutional customers.
The cashback nominal will be credited to the customer´s bank account listed in the MAM system and this cashback amount applies in multiples.
"This program is one of MAM´s efforts to continue introducing MAM´s best mutual fund products such as MNC Dana Lancar, MNC Dana Syariah Barokah, MNC Dana SBN and MNC Dana Dollar to new customers," said MAM Chief Marketing Officer Dimas Aditya.
Meanwhile, for existing customers, this program becomes a sweetener to further increase engagement between customers and MAM. "Customers who are interested in participating in this cashback program can contact sales & marketing in Jakarta, Bogor, Bandung, Surabaya, Pekanbaru and Medan or contact the call center (021) 29709696," said Dimas.
for your information, MNC Asset Management is a financial services company belonging to the MNC Group which is a member of MNC Financial Services. Acting as an investment manager in managing funds through investment in the capital market, MNC Asset has a variety of products to meet the investment needs of individual and institutional customers, namely Money Market mutual funds (MNC Dana Lancar and MNC Dana Syariah Barokah), and Fixed Income (MNC Dana Likuid, MNC Dana Syariah, MNC Dana Dollar, MNC Dana SBN).
MNC Asset also has Mixed Mutual Fund products (MNC Dana Combination Icon), Stocks (MNC Equity Funds, MNC Sharia Equity Funds, MNC DANA Smart Equity Funds), Protected Mutual Funds and MNC36 Liquid ETF Mutual Fund