This is a Sharia Investment Trend for Millennials, Watch on IG Live MNC Asset x Indo Premier Securities!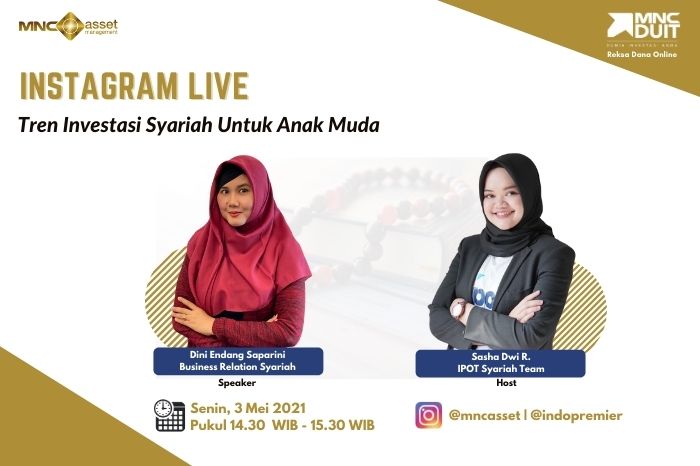 Jakarta, May 2th, 2021 - The capital market industry is currently being loved by young people. This is can be seen from the data increase in the number of millennial investors, which has increased significantly. Reporting data from PT Kustodian Sentral Efek Indonesia (KSEI), as of March 31, 2021, the number of retail stock investors was recorded at 2.17 million while mutual fund investors totaled 4.17 million investors. In fact, in December 2020 the total capital market investors amounted to 3.88 million and interestingly, the number of investors who were less than 30 years old was 54.8% of that number.
The rise of millennials in using these capital market products, especially mutual funds, deserves appreciation. Therefore, an understanding of investment products and trends also needs to be followed by the development of both conventional and Islamic products.
MNC Asset Management (MAM) as a business unit of PT MNC Kapital Indonesia Tbk (BCAP), which is under MNC Group, is collaborating with Indo Premier Sekuritas, to discuss trends in sharia investment for young people.
"Millennial investors really need to update products and investment trends regularly in order to maximize returns, therefore we will discuss sharia investment trends in the live later" said Dini Endang as MAM sharia business relations who was also the speaker at this event.
Dini added that the trend of sharia investment in the first quarter of 2021 is quite good, for example, such as MNC Dana Syariah Barokah products which get the best performance product performance YtD (Year to Date) 1.48% and 1M (1 month performance) 0.38% as of April 28. 2021 based on IPOT Fund data.
Then what is the trend of Islamic investment for young people today? see the discussion on IG Live MAM X Indo Premier which will be held on Monday, 3 May 2021 at 14.30 WIB - 15.30 WIB on the @mncasset and @indopremier accounts. Don´t missed it!