Sharia Mutual Funds: Why Should You Have One? This is The Reason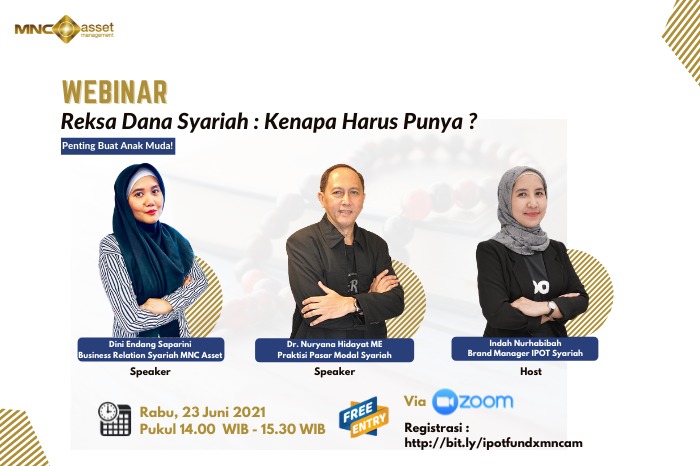 Jakarta, 18 June 2021 – Nowadays, the trend of investing in mutual fund instruments has become the choice for most young people. The increasing level of public literacy in investing makes mutual funds an option for novice investors with diversified risk levels. The mutual funds are divided into conventional mutual funds and Islamic mutual funds. Talking about sharia mutual funds, this type of mutual fund is currently on the rise and is loved by young investors.
According to the records of the Financial Services Authority (OJK), as of the end of 2019, there were 256 sharia mutual funds registered with the OJK, an increase of 452% compared to 2010. In addition, the total managed funds in sharia mutual funds also grew rapidlyin the December 2014 period. Until December 2019, the growth in managed funds increased from 11.16 trillion to 53.74 trillion or an increase of 481.54%.
Seeing the opportunity for the growth of sharia mutual funds, a subsidiary of PT MNC Kapital Indonesia Tbk (BCAP) under the auspices of the MNC Group which is engaged in the mutual fund industry, namely MNC Asset Management (MAM), collaboration with Indopremier Sekuritas as a partner of the Mutual Fund Selling Agent (APERD) from MAM to hold a webinar with the theme "Sharia mutual funds: why should you have one?"
MAM´s Chief Marketing Officer, Dimas Aditia Ariadi stated "Seeing the potential for sharia mutual funds that continues to grow to date, we feel the need to provide literacy to the public in order to increase public awareness of sharia mutual funds and therefore we welcome collaboration in this webinar" he said.
In line with Dimas, Indah Nurhabibah as Brand Manager of IPOT Syariah who will also be the moderator of this webinar said that currently the trend of investing in Islamic mutual funds is being watched by many young people because of the many advantages of this type of mutual fund.
"The increasing trend of sharia mutual funds among young people is certainly due to the many benefits from these mutual funds that have been felt, and for young people who want to know more about this sharia mutual fund, participating in this webinar is the right choice," said Indah. .
This webinar will be held on Wednesday, June 23, 2021 at 14.00-15.00 WIB via zoom. For those who want to join this webinar, click the link https://bit.ly/ipotfundxmncam to register. Free and open to the public!