Discuss Coffee Business and Investment, Watch IG Live MNC Asset with Kopi Nako!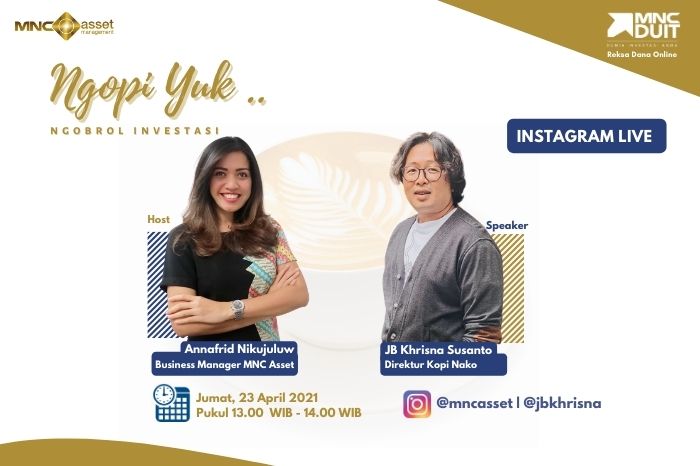 Jakarta,21th April 2021 - Now, coffee is being loved by millennial´s. Various types of flavors and variations of coffee continue to growth of cafe concept coffee shops.

The coffee activities that just drinking have turned into a new life style among young people who are often known as "beautiful coffee".
The number of instagramable coffee shops with increasingly diverse flavors makes coffee shop businesses with local brands become famous.
This activity that is often carried out by these young people no doubt often creates its own financial problems. On the other hand, young people who are observant of opportunities are actually participating in enlivening the local coffee shop industry by opening coffee shops with poetic names.
MNC Asset Management (MAM) collaborated with one of the well-known coffee shop brands, namely Kopi Nako through Instagram Live to discuss investment and the current coffee business with the theme "Coffee (Talking about Investments)".
"Investment in the coffee business is one of the most crucial things to maintain business cash flow," said JB Khrisna, Director of Nako Coffee who was the resource person for IG Live.
Khrisna stated that in the coffee business, it is important to maintain cash flow stability and take advantage of company liquidity to increase expansion through investment. According to Khrisna, the business strategy and investment carried out by Kopi Nako will be shared in IG Live later.
MAM Business Manager, Annafrid Nikijuluw who will also be the host of the IG Live stated "It is important for the millennial generation who will open a coffee shop to know the strategies and challenges of this coffee business, therefore we will collaborate with Kopi Nako to review it" he said. Annafrid.
Watch IG Live MAM X Kopi Nako which will be held on Friday, April 23, 2021 at 13.00 WIB - 14.00 WIB on the @mncasset and @jbkhrisna accounts. Don´t missed it!