Maximize "Cuan" With Portfolio Updates, Watch IG Live MNC Asset x Ajaib Investasi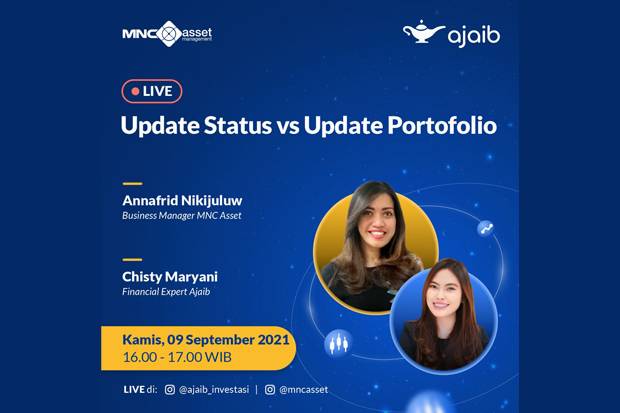 Jakarta, September 8, 2021 - In digital era, almost all people have social media accounts. Ease of access via smartphones and various interesting features are the reasons for social media to grow rapidly and are loved by young people.
Talking about social media, the feature that is usually used by the majority of netizens on every social media is the daily story sharing feature or commonly known as status updates. This feature is usually used to share what you feel, activities you do, share information, and so on.
The existence of the status update feature makes most social media users diligent to update their daily lives or just see the status of friends, colleagues, relatives and anyone who is friends on someone´s social media account.
However, this updating habit is not often done for investment portfolios. In fact, investment portfolios must also be reviewed frequently to adjust investment instruments with financial objectives, market conditions, risk diversification, and risk profile
MNC Asset Management as a business unit of PT MNC Kapital Indonesia Tbk (BCAP) under subsidiary the MNC Group collaborated with one of the Mutual Fund Selling Agents (APERD) ajaib to discuss status updates vs portfolio updates.
"Most of us often update our social media status but forget to update our investment portfolio. Even though periodic portfolio updates are very important," said Annafrid Nikijuluw as MNC AM Business Manager in Jakarta, Wednesday (8/9/2021).
Annafrid, who is also a speaker at this event, added that periodic portfolio reviews are very necessary so that we always get optimal results from the investment instruments we choose. Therefore, MNC-AM will review this together with Ajaib.
And then what are the steps to update your investment portfolio and what are the tips? Check out the discussion on IG Live MNC AM x Ajaib which will be held on Thursday, September 9, 2021 at 16.00 WIB - 17.00 WIB on the @mncasset and @ajaib_investasi accounts. Save the time and date!